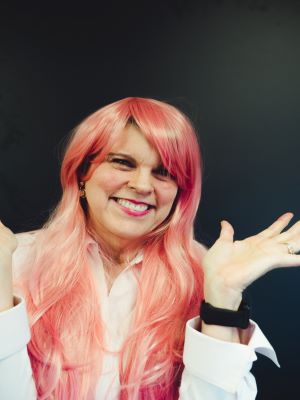 Name: Lori Southard Howe
Title: Connector, Inspirationalist, Strategist, Social Justice Warrior
Company: Share Marketing
BigWig Fun Fact: I have a serious case of wanderlust. I've trekked Rwanda's Virungua mountains and hung out with mountain gorillas. Came nose to nose with a barracuda in the BVIs. Hiked to the top of the Duomo in Florence, Italy. Next dream to live - summit Kilimanjaro!
Fundraising Goal: $1000 Pssh. Let's blow past this!
Why are you participating? It's great to be a dreamer; it's even better to help make the dreams of others come true. Let's work together so that one day, nobody will need to fear this diseases and work until the words "I have cancer" are a distant memory.
This is personal for me, like for so many others. I'm donning a pink wig (definitely outside my comfort zone) to compel my friends, family and colleagues to donate. Your gifts support local Iowa programs for those fighting and living with cancer now and to fund more national research focused on ending this disease. I do this to honor my mom and my lifelong best friend who both lost their lives to breast cancer. I do this for my friends and fellow Komen Greater Iowa warriors Cathy Palmer and Jessica Kramer who are living with stage IV cancer and continue to fight every day for more research and programs so others won't need to endure the pain and loss that so often accompanies a cancer diagnosis.
"The things you think about determine the quality of your mind. Your soul takes on the colour of your thoughts." ~ Marcus Aurelius
View More